Welcome to LoKation Luxury! As a luxury agent, we're committed to helping you grow in the industry.
To get started with our Luxury Division, follow these steps:
Schedule Onboarding with Luxury Marketing & Tech Team
Complete the Information Request Form
Schedule a Complimentary Digital Audit with Convergence Digital
Download the kvCORE Getting Started PDF
Get the LoKation Home Search App
Explore the Marketing Center
Try Quick Social
Download Luxury Logos, Email Banners, Signature & Fonts

By completing these steps, you'll be well-equipped for success as a LoKation Luxury agent.
Click the
Request Form

Button To Get Started With LoKation Luxury
To expedite getting you fully implemented on the tech suite, please use the link to schedule a 30 minute call with the Lokation Luxury Marketing Team. This will get your kvCore website established, configure your Luxury Home Search App and go over the Marketing Center and Quick Social Applications' and how to download Luxury logos, email signatures and sign designs. This is also a good Q&A opportunity and to convey needs for your personalized Buyers/Sellers PDFs.
We are thrilled to announce an exhilarating opportunity for agents in the luxury real estate market! LoKation Luxury has joined forces with Convergence Digital Marketing & Advertising to present a complimentary Branding Workshop, featuring a comprehensive digital presence audit. Uncover personalized recommendations to establish your authority in the luxury real estate sector. Book a convenient 1-on-1, 360° online audit through our calendar and elevate your online presence to new heights. Don't miss out on this chance to unlock your digital potential and boost your success. Schedule your complimentary audit now!

Now that you are enrolled in the Luxury Division program, you will soon be equipped with kvCORE for enhanced efficiency and performance. We will contact you within 48 hours to get set up.
In the meantime, please "click here to download" the kvCORE Getting Started document.
Luxury Assets & Email Banners
These logos are the property of LoKation Real Estate and its subsidiaries. These assets are to be used by subscribed LoKation Luxury Agents only.
For all logos of various sizes and files types, click below for a complete ".zip" file
Email Signature Block Template
This guide will allow you to copy the source code, and provide instructions to properly install in your specific mail exchange (Google, Yahoo, Microsoft, Outlook, etc).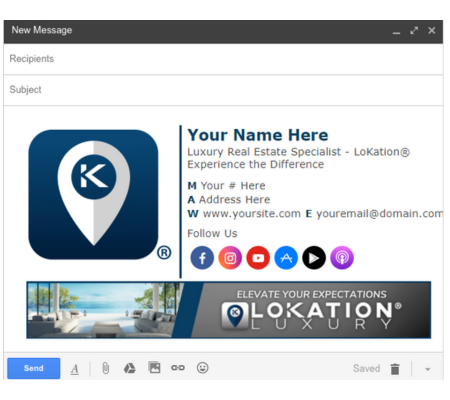 Email Signature & Newsletter Banners
The following banners can be copied, or downloaded, to be used for all emails and newsletters.
Brand Colors
LoKation's Brand's colors convey the concepts of luxury, trust, and reliability with a touch of luxury.
Use these HEX codes for marketing and luxury assets
Fira Sans Light
Fira Sans
Fira Sans Condensed
As a LoKation Luxury® agent, you have the opportunity to elevate your presence in the luxury market with a range of specialized resources. Explore the following optional programs that encompass education, marketing, and white glove services, designed to cater to the needs of discerning high-end clientele.