ELEVATE INTO LUXURY.
MAXIMIZE YOUR POTENTIAL.
Everyone has the impulse to be Elite.
Elevate Your Career
By becoming a luxury agent, you will have the opportunity to work with some of the most exclusive listings and prestigious clients, making it a highly rewarding career path for those who are driven, professional, and committed to delivering top-notch service to their clients.
Cutting-Edge Technology
LoKation Real Estate is at the forefront of cutting-edge technology, providing you with the #1 all-in-one kvCore complete productivity platform to streamline your business operations and supercharge lead generation/nurturing capabilities. This package alone is worth $700 which regular Lokation agents pay. Includes a powerful CRM, customizable website with IDX feed, Marketing Automation, Lead Engine, and Business Analytics!
Bespoke Marketing
At LoKation Real Estate, we understand that every property and client is unique. That's why we offer bespoke marketing services to tailor our approach to your specific needs. Our team of experts will work with you to create custom marketing materials, from online listings to print brochures, that showcase your property in the best light possible. By streamlining our efforts and utilizing our platforms, we can ensure that your marketing campaigns are as effective as possible, maximizing your output and increasing your chances of success.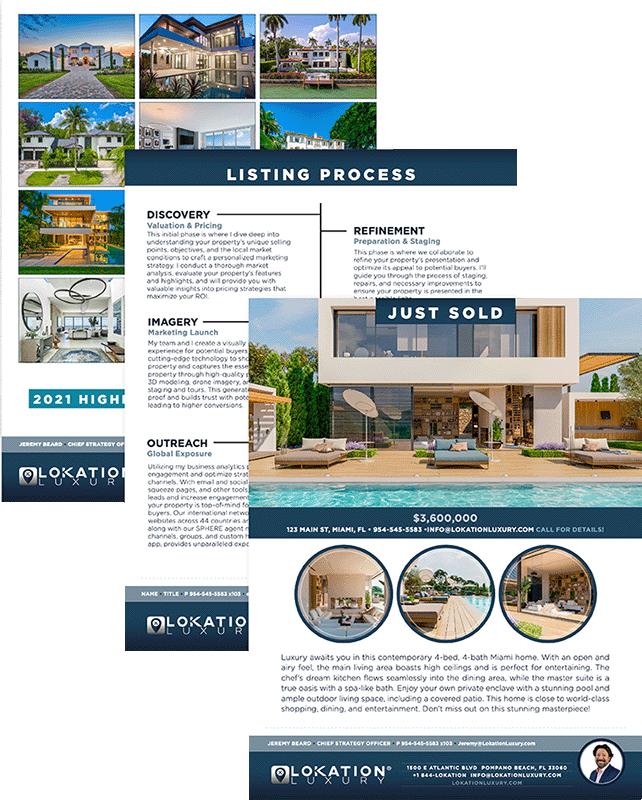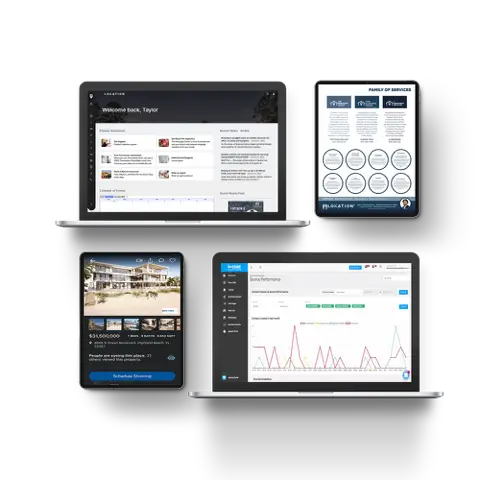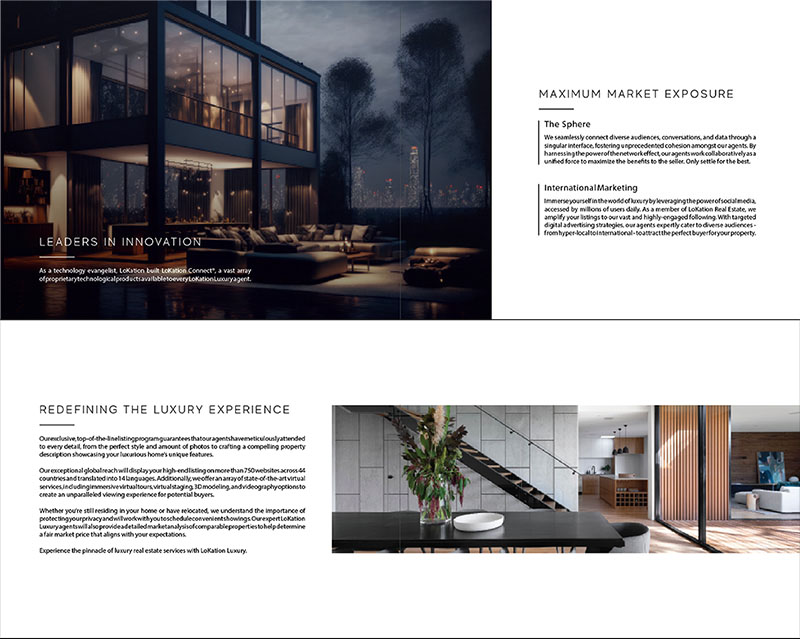 Accelerated Luxury Market Training
Learn More →
Our partners provide education to get you through the Institute for Luxury Home Marketing 8-hour course. This includes in-house education from Top Luxury Agents, membership, market reports, and more with advanced technology to help you succeed in the luxury market.
360° Comprehensive Online Digital Audit and Consultation
Learn More →
A 360° online digital audit and consultation is a comprehensive evaluation of an agent's online presence, including its website, social media accounts, and other digital marketing efforts. This can include analyzing current digital marketing strategies, identifying any areas for improvement, and developing a plan to address them.
LoKation Home Search App
Learn More →
This plan includes a personalized LoKation Luxury Home Search App for your clients. Your app is buyer, seller, renter, and investor friendly. Put the power of the MLS in the palm of your clients hands.
All-In-One IDX Website, Marketing, and CRM Platform
Learn More →
Do more with kvCORE!
A complete productivity platform by kvCore includes a Smart CRM, personal  IDX website, and AI-Driven Lead Nurturing to streamline your business. Supercharge your ability to engage prospects! FB & Google Ads, BombBomb videos, Text, VM drops, and much more. Grow your Sphere, all from the palm of your hand! 
Luxury Company Overview Booklet & Tailored Listing Presentations
Learn More →
Unveiling our exquisite linen booklet, showcasing our luxury real estate expertise and esteemed client partnerships. Explore our services, values, and collaborative PR efforts for impactful custom listings in social media, print, and advertising channels.
Professionally Designed Social Media Content
Learn More →
Enhance engagement and impact on social media with customizable templates. Tailor them to your brand or listing. Create professional templates with images and text. Access a library of high-quality content and save time delivering it to your target audience.
Bespoke Luxury Marketing Materials
Learn More →
Unlock success with lead-focused real estate marketing materials, expertly designed for competitive markets. Crafted with precision and expertise, your secret weapon for elevated lead generation. Includes express print services within 24 hours.
Exclusive Use of LoKation Luxury Logos
Learn More →
Exclusive use of LoKation Luxury® logos refers to the use of specific logos or branding elements that are associated with the LoKation Luxury brand. This can distinguish you as a luxury-specific Realtors * only for properties above $1mm
White Glove Marketing
Learn More →
The epitome of luxury. Our commitment to you ensures the growth & success to your real estate brand. From tailored property searches to personalized marketing strategies, we elevate your experience to a whole new level of opulence, delivering unparalleled results.
Elevate Your Brand

Join LoKation Luxury
LoKation Luxury is the intersection of Luxury and Technology. Our agents and clients can attest to the knowledge and professionalism of LoKation's program. The National Association of REALTORS recognizes LoKation® Real Estate as one of the top brokerages in the industry with our highly recognized 100% commission plans.

All Benefits Listed Below Available in Both Blue and Silver Plans
N

360° Comprehensive Marketing Consultation For Custom Listing Presentations

N

Bespoke Luxury Marketing Materials

N

Luxury Company Overview Booklet

N

Personalized Social Media Templates

N

Exclusive use of LoKation Luxury Logos
N

kvCORE, an All-in-One IDX Website, Marketing, & CRM platform Dedicated Support Hotline

N

Online Digital Audit & Consultation

N

Full Broker/Staff Support

N

Paid Commissions at Closing

N

No Required Fee to Client
N

"The Sphere" Interactive Online Office

N

In Office, Remote, and On Demand Training

N

Available Mentor/Coaching Program

N

Professional Development Training

N

LoKation Luxury Email Signatures

N

FREE Office Access
Largest Independent Brokerage